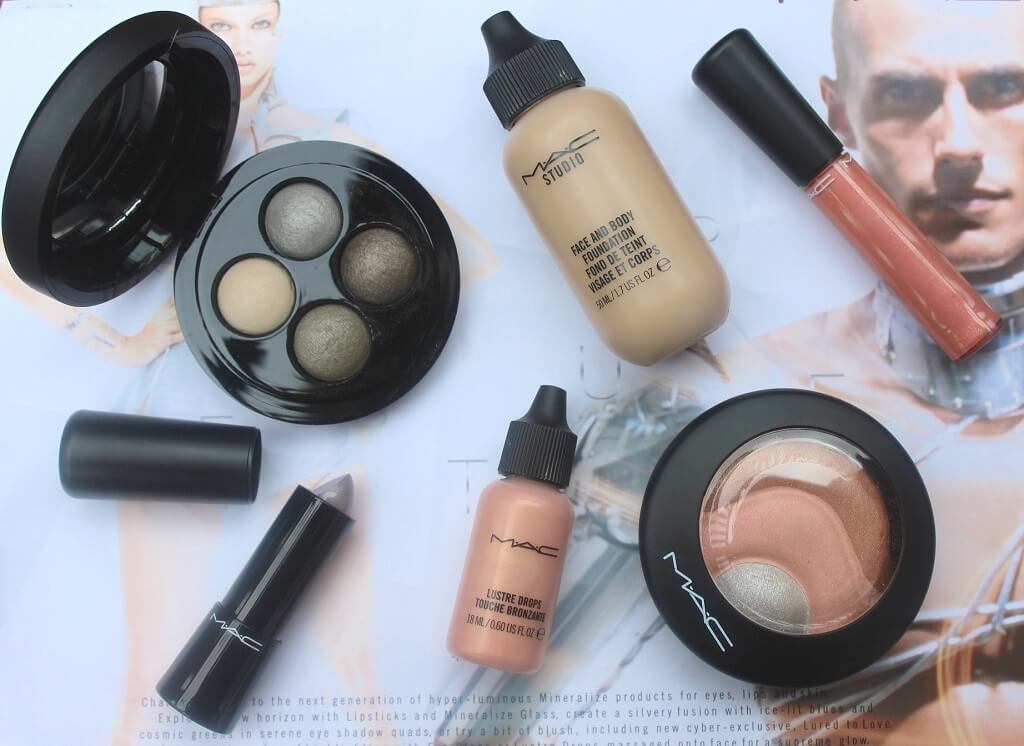 When it's looking more like January than April, few things can turn a frown upside down like a little sneak peek parcel from the makeup superstars at MAC. I've been eyeing up the Future MAC Collection for a while and love their whole concept of taking mineralize finishes to the next level.
Far beyond basic matte or dewy finishes, the whole mineralize element introduces colour inspired by five elements and has elements of sheen, lustre and luminousity.
Future MAC collection includes five shades of mineralize rich lipsticks, a lightweight formula that nourishes dehydrated lips. Pale soft peach and pinks (Cybernaut and Metafabulous) are combined with edgier fashion forward grey and taupe (Ionized & Touch the Earth). There are three eyeshadow quads in the collection:
Nanonude: Warm Beige, Neutral Beige, Soft Caramel, Gold with Pearl.
Dark Energy: Metallic Silver, Teal Iridescent, Metallic blue, Black with pearl.
Full Orbit: Creamy white, Dirty olive, Deep grey, Soft Brown w/ pearl (above).
At a glance I immediately would go for Full Orbit, there's something about these pearlescent greyish browns & olives that suits Irish skin so well, and the buildable pigment allows for both a natural wash of colour and a blown out smoky eye.
There's some great runway style edginess to this collection, not just in the alternative lip colours but also with gorgeously edgy eye glosses. Available in two shades, Pearl Varnish is an opaque white with a pearlescent finish while Lightly Taupe is a soft beige pearl. These are such a simple way to a modern 'undone' look when teamed up with a strong lip (perfect five minute face right there!).
The real stars of the show here are the mineralize blushes, skin finishes & lustre drops. These blushes have the most beautiful soft finish with buildable colour that never gets cakey while Skin Finishes boast a 77-mineral complex to highlight the face and body – impressive! Blushes and skin finishes are all in very wearable soft shades that would suite most skin tones:
Cosmic Force: Dirty Nude Blush.
Ray Beam: Soft Pink Blush.
Warm Rose: Pastel Pink with pink reflects.
Otherearthly: A colour wave of bronze, soft pink and silver tones to create radiance (above).
If I were to pick one item from this collection then hands down it would be lustre drops. These little liquid highlighters give such a radiant glow, they pretty much mimic sunlight on the skin. Available in Pink Rebel (blue pink with gold pearl) and Barbados Girl (rose gold bronzer) I'd put my money on these beauties selling out fast.
Future MAC Collection limited edition is exclusive to Brown Thomas Henry St & Grafton St, available on counter now.
Enjoyed this post? Stick around and subscribe for more beauty sneak peeks & reviews! [do_widget id=mc4wp_widget-2]